Remote working
To work from home, but elsewhere? Teleworking in head-at-the-office mode but feet-on-vacation…
Our destination offers you an ideal setting to carry out your professional projects and give your brain "nature" or "sports" or "wellness" breaks, and why not all three to stimulate your productivity and creativity!
CONNECT / DISCONNECT
Zen, serenity, disconnection
After a day of work, to get rid of the stress, awaken your energy and surrender yourself to the sweetness of life, take the time to take care of yourself!
Offer yourself a relaxing break in one of our accommodations equipped with a private spa or sauna:
- Gîtes du Brugas in Saint-Juéry
- Gîtes du Castel d'Alzac in Saint-Jean-d'Alcapiès
- Rêve Aveyron in Saint-Izaire
- La Résidence 1837 in Saint-Affrique
Find all of our other connected accommodations
Choose your moment of plenitude for your mind and body!
Certain other aquatic centers dispose as well of wellness and relaxation equipment with hammam… to enjoy the soothing effects of the water:
- Centre nautique Intercommunal de Saint-Affrique : offers a fun pool with glides, massage bench, geyser, rapid, paddling pool with jets, hammam
- Swimming pool of Plaisance : welcomes you outdoors in July and August
SPORTS, NATURE, disconnect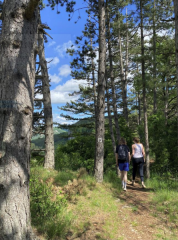 Do you feel like recharging your batteries in a preserved environment, varied hilly landscapes and discovering ancient villages and their ancient built heritage? If so, our territory is waiting for you to be discovered, with more than 500km hiking trails, its numerous cycling, mountainbike, gravel or trail circuits.
You are sure to find something to enchant your days off, let's get tempted!
To choose your itinerary, take a look at the Rando Grands Causses website. Sneakers on your feet, back-pack on your shoulders, the adventure is yours!
Visit Roquefort in a different way, and dive into the heart of the Combalou, a universe of unreal scenery!
- Explonature Speleology: lovers of underground walks, or simply looking for coolness in summer or mildness in winter, this experience is made for you.
Patrimony, disconnection
The creative excess of men has given all its strength to the stones, modeling castles, churches, and inspiring the most beautiful legends. Immerse yourself in medieval history and visit the medieval hamlet of Saint-Caprazy, without forgetting the castles that have stood the test of time. In the footsteps of the hospitallers, discover the twelfth century romanesque church of Saint Martin in Plaisance, the Hospitallers Tower and the tomb of the Commander of Martrin, the Hospitallers castle of Versols, built between the fourteenth and sixteenth century. Continue this journey through time, setting out to meet our dolmens, statues-menhirs, laden with symbols and mystery!
Discover a unique heritage and see how agricultural practices and sheep farming have shaped our landscapes. Here, it's the stones that deliver a secret message: lavognes, cazelles, jasses,... punctuate many paths. For a complete immersion in Le Pays du Roquefort, engulf yourself in the underground passages during a visit of the maturing cellars. Our producers pass on their know-how with emotion, imagination and talent to become unbeatable on the King of Cheeses!
Epicurean moments, disconnection…
The pleasure is on the plate…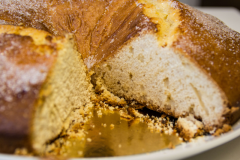 Come and try our good restaurants, meet the chefs, discover our local products and then go home with great country recipe ideas to impress your friends: Pascade, Farcous, Flaune…
The markets are part of the art of living in the countryside, a good opportunity to fill your baskets with local products and soak up the atmosphere.
Unmissable event all year-round: the saturday morning market of Saint-Affrique, filled with products that come straight from the gardens of our local producers, something to delight your taste buds!
Our accessible connected teleworking spaces
- L'Oustalou : offices and meeting rooms at the House of Public Services in Vabres L'Abbaye
- La Terrasse : co-working space in Saint-Affrique
Our connected apps
The Grands Causses Natural Regional Park offers mobile and fun walks on its territory. Come and discover the history and the landscapes of the region of the Grands Caussesguided by mysterious characters: Balades des Grands Causses. You can also discover the city of Saint-Affrique, its history and its anecdotes, through a digital treasure hunt on the free Explorama app.
For the lovers of wide open spaces, the Grands Causses Natural Regional Park offers outdoor activities with its mobile app Rando Grands Causses. Digital solution for the use of all walkers, Rando Grands Causses lists many walks, on foot, by bike, by horse, on the water, and in roaming.