Our local gastronomy
Exalt your senses with our emblematic products from Aveyron!
sALTED TREATS FROM OUR REGION
The Roquefort
Cheese as the true ambassador of the Causses, is only made with raw whole Sheep's milk of the Lacaune breed. It can be simply tasted on a slice of bread with a nice drop of côtes de Millau wine, or it can be used in a wide range of culinary preparations. Use all your creativity to include it in many different ways in your recipes. Roquefort cheese compliments both sweet and savory dishes. You can also visit the blog of the General Confederation of sheep milk producers, and those of the Roquefort cheese manufactures, and find all the delicious recipes that Roquefort lovers have shared with everyone online.
Farçous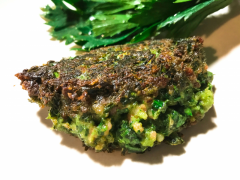 There are small thick pancakes made of eggs, flour, milk and chard leaves. Depending on the season and the creativity of the cook, dandelion, parsley, spinach and cabbage can be added…
the flambadou
Meat cooked on a spit-roast with the flambadou may be found on the menu in many local restaurants. The flambadou is a cone-shaped piece of thick iron with a slot and a hole, with a long extended handle to prevent burning. This device is heated up and used to baste the meat with burning fat!
SWEET TREATS FROM OUR REGION
The Flaune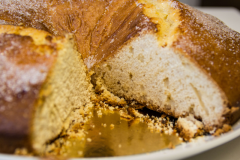 It is a rolled-out pastry filled with "recuite" (obtained by draining off the whey which is gently heated and turns into a slightly grainy cream), eggs are added and it is finally flavoured with orange blossom.
The Fouace
It is an aveyronnaise brioche which is flavoured with orange blossom.
The gâteau à la broche
It is a mellow cake that has a delicate flavour and is slowly cooked "on a spit" before flambéing. It can be bought at the biscuit factory located in the Cazes district in St-Affrique. This cake is baked in the old traditional way.
declination based on sheep's milk
Besides Roquefort cheese, Sheep's milk is used for the manufacturing of numerous other cheeses and in the production of ice creams and yoghurts
OUR FAVOURITE
Luna's Pascade
Recipe Pascade with Roquefort sauce (lardons)
This traditional speciality is cooked after Easter, at the end of Lent. If you know a family from Aveyron, you have certainly already tasted it or at least heard about it. There is no basic recipe so you can make it your own way!
In our house it is the Sunday evening meal and can be made with herbs (parsley, chives, chard) and for a gourmet touch you can make a dessert version with apples and/or jam! A treat
Ingredients
- 300 g flour
- 1/2 litre of milk
- 4 eggs
- 1 pinch of salt
Preparation
Mix the flour with the milk and add the eggs. Beat the mixture well until you have a smooth dough. If possible, let the dough rest.
Heat the oil in a frying pan and add the mixture.
Allow to brown, then turn over. Serve the pascade immediately, when it is cooked on both sides.
It's up to you to use your imagination! In a savoury version with herbs, bacon... or in a dessert version with apples!